"Virtual reality was once the dream of science fiction. But the internet was also once a dream,
and so were computers and smartphones. The future is coming."
MARK ZUCKERBERG, CEO of Facebook
Click on the image to show the video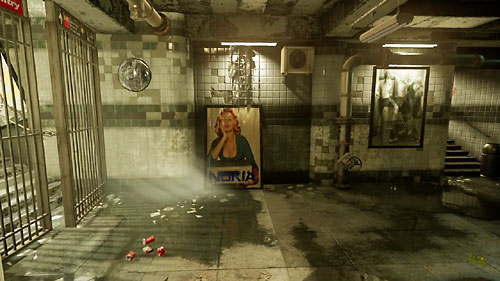 NOKIA Escape Room Walk-Through
This complete Walk-Through is a flat representation of the stunning VR experience at the creepy subway station. Feel water dropping from the ceiling, encounter high quality reflections, the lavish lighting of the scenery and a highly immersive sound design. The real VR Experience runs at constant 90fps on an HP OMEN Laptop with the Oculus Rift.
Click on the image to show the video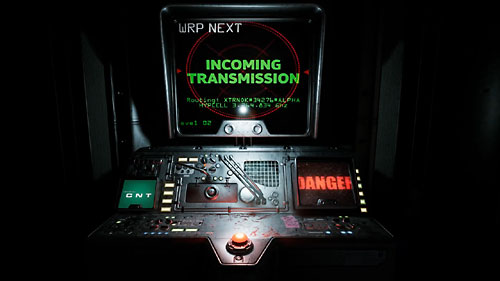 Let's do the TimeWarp again!
An excerpt from the NOKIA Virtual Training Demo Version 2.1. This feasibility study demonstrates the use of multiple video clips simultaneously including post-processing effects and high-quality reflections. Particularly noteworthy is the ability to play 4k videos (Vivaldi) within the scenery. Here, too, the real movement of the player and not a predefined camera movement was recorded. All visible effects take place in real time. Although up to three videos run simultaneously, the frame rate in VR does not drop below 90fps!
Click on the image to show the video
Download the creepy Subway Station Escape Game
Download the fully functional Escape Room demo for normal monitors now. This program runs on Windows 10 (64 bit) and allows you to choose your hardware. It even works (albeit slowly) on office PCs. No installation required. You may be prompted to install Microsoft c++ Runtime, that's o.k. and useful...
The download includes a detailed manual.
Download the Escape Game
Click on the image to read the article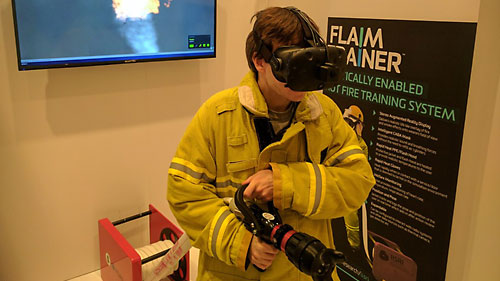 'Flaim Trainer' gives realistic Firefighting Experience
What if you could train the next generation of fire fighters across the world with experiences that are expensive and often impossible to replicate in real life? Flaim Trainer could give them experience they might not otherwise get, then. It could also be used to help educate people about fire safety.
Click on the image to read the article
Volkswagen Group starts training with Virtual Reality
The car maker announced that it is deploying VR training with the HTC Vive headset across its global operations. This makes the company the first car manufacturer in the world to fully embrace the technology in this way. Training consists of Volkswagen's very own VR app. It allows users from across the globe to gather online and then collaborate together.